San Francisco has always been a dynamic and vibrant city by the Bay. Filled with dreamers and doers, a rich mixture of people that believe in the power of community. Second only to the views are our business owners who provide vibrancy, diversity and growth at all corners of our city.
This week is in celebration of you – our small business owners. Standing with you are the local chambers of commerce, merchant associations, nonprofits and city, state and federal agencies. This week, they want to thank you for all that you do for San Francisco. During San Francisco Small Business Week, we invite you to join us and celebrate the city we have built.
We want to meet you, and make sure you are connecting with other business owners, accessing resources dedicated to your success and being inspired, as we are, by the company we keep. We hope that you will take a moment out of your busy schedule to appreciate all that small business has built during San Francisco Small Business Week 2017 from May 15 – 20.
We're so proud to be your neighbor! Come celebrate with us! Check out all the activities happening this year!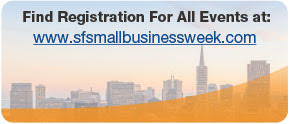 2017 San Francisco Small Business Week Event Overview



Monday, May 15
Small Business Conference Workshops @ San Francisco SBA Entrepreneur Center​
8:00 – 9:30 AM: How to Get Certified for Contracting
8:30 – 10:00 AM: Starting a Small Business: Legal Considerations
10:00 – 11:30 AM: Doing Business with Transportation Agencies: BART, SFMTA, SFO & Caltrans
10:30 AM – 12:00 PM: Startup Financing for Your Small Business
12:00 – 1:00 PM: Doing Business with Pacific Gas & Electric
12:30 – 2:00 PM: Who's Your Jenny? How to Identify Your Target Market
1:30 – 2:30 PM: Doing Business with the State and Federal Government
3:00 – 4:00 PM: Doing Business with the City of San Francisco
3:00 – 4:30 PM: Beyond the Basics: Social Media & SEO Hacks for Business Owners
Flavors of San Francisco @ Hilton San Francisco Union Square • 5:30 – 8:30 PM
Tuesday, May 16
Small Business Conference Workshops @ San Francisco SBA Entrepreneur Center​
8:30 – 10:00 AM: How to Make a Living Making Food
9:00 – 10:30 AM: Intro to Lean Startup
10:30 AM – 12:00 PM: Essentials of Small Business Bookkeeping
11:00 AM – 12:30 PM: Purchasing Commercial Real Estate for Your Small Business
1:00 – 2:30 PM: Build Credit to Grow Your Business
12:30 – 2:00 PM: Influential Selling: How to Turn Connections Into Revenue
3:00 – 4:30 PM: Networking 101
3:30 – 5:00 PM: The Make It Happen Blueprint – Four Decisions That Determine Your Future Success and Happiness
6:00 – 8:00 PM: 12 BIG Mistakes Small Employers Make
6:00 – 8:00 PM: Franchising Basics: What You Should know to Consider a Franchise
Small Business Honorees Ceremony @ City Hall • 3:30 PM
Latino Small Business Mixer: Stories of Struggle and Triumph                                   @ Don Ramon's • 5:30 – 8:30 PM
San Francisco African American Entrepreneurs – Their Vision, Path & Journey        @ Mariposa Hunters Point Yacht Club • 5:30 – 8:30 PM                                  
GGBA MEGA Make Contact @ LGBT Community Center • 6:00 – 8:00 PM
Renaissance Presents Women Mean Business @ Capital One Café • 6:30 – 8:30 PM 
​Wednesday, May 17
Small Business Conference Workshops @ San Francisco SBA Entrepreneur Center
9:00AM – 3:00PM: Federal/State Basic Payroll Tax Seminar
7:00 – 9:00 AM: Golden Gate Business Association Toastmasters Club
8:30 – 10:00 AM: Immigration Law in the Employment Context
10:30 AM – 12:00 PM: Small Business Financing
12:30 – 2:00 PM: The Future of Video Marketing
2:30 – 4:00 PM: Building the Perfect Elevator Pitch
4:00 – 5:30 PM: Immigration Policy & Diversity in the Restaurant Industry
5:30 – 7:00 PM: Before You Sign That Lease
Thursday, May 18
Small Business Conference Workshops @ San Francisco SBA Entrepreneur Center
8:30 -10:00 AM: Art of Negotiation: Getting What You Deserve
9:00 – 10:30 AM: Smart Tools to Save Money with Energy Resources
10:30 AM – 12:00 PM: Funding Your Small Business
11:00 AM – 12:30 PM; Get Federal Funding for High Tech Research (SBIR/STTR)
12:30 – 3:30 PM: Social Media: LinkedIn, Email Marketing & Your Website
1:00 – 2:30 PM: Four Steps to the Perfect Logo
3:00 – 4:30 PM: Training, Mentoring, Counseling, Financing and More – Non-Profit Services For Entrepreneurs
3:30 – 5:00 PM: Leading The Charge: Stories from Success in Contracting
Small Business Awards @ AT&T Park • 6:00 – 8:00 PM
Friday, May 19
Small Business Conference Workshops @ San Francisco SBA Entrepreneur Center
8:30 – 10:00 AM: Here Today But Planning for Tomorrow:  The Next Gen and Your Business
9:00 – 10:00 AM: The Power of the Inbox: Tips and Tricks for Successful Email Marketing
10:30 -12:00: Grow Your Business Online
11:00 AM – 1:00 PM: Winning the Trade Game with Export Finance
12:30 – 2:00 PM: Empowering Women Business Owners: Inspiration – How To Get It And Keep It
Saturday, May 20
Follow us on Facebook and Twitter for updates, announcements and interviews with City Resources. #SFSBW2017